Five new exhibition projects at the Rothko Centre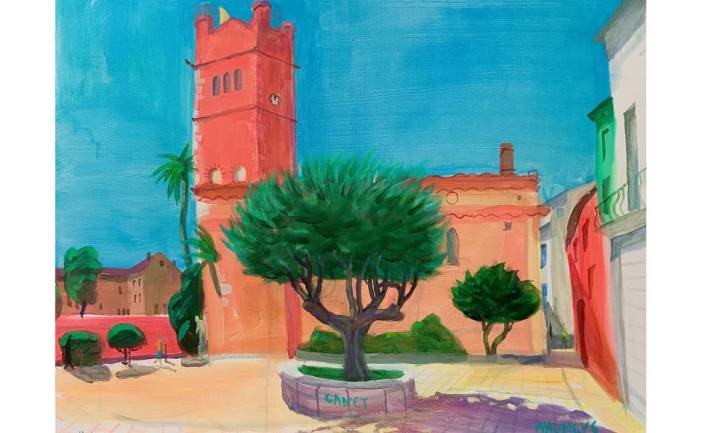 28 October
16:00
Daugavpils Marka Rotko mākslas centrs, Mihaila iela 3
At 4 p.m. on Friday, 28 October, the Daugavpils Mark Rothko Art Centre will launch its new exhibition season with five bold, bright and expressive projects that promise to quench the thirst of every visitor for light and colour in the gloomy months of autumn and approaching winter.
For all their apparent differences, the five new exhibition projects outline some shared contemporary tendencies in the Eastern European art space. The highly original project by Ukrainian artist Kolya Novikov is a sweeping retrospective that uncovers the lesser-known pages in the life book of this talented rebel artist, whose work demonstrates a strong folkloric presence and profound awareness of ancient cultures and myths.
Mysticism and numerous references to cultural history in contemporary form through a minimalist approach to material illuminate – quite literally – the solo exhibition of Jarosław Perszko (Poland). "Titans Dancing" is his latest experiment with the ephemeral subject of neon lights. The matter of his art, dynamically circulating in the tube-like lamps, resembles pulsating blood and is associated with life and creative drive. The project is ably curated by the Polish art critic and curator Eulalia Domanowska.
Her other project in this season's exhibition offer is a joint effort by eleven artists on "New Spirituality" and the meaning of sacred experiences in creative practice, understood as something personal and intimate and referring to the power residing within. This perspective on spirituality emphasises the role of sensations and psycho-spiritual exercises. It treats the human body as filled with inner, spiritual meaning and a manifestation of the creative power of the spirit.
In "Afterlife: Dying to Get There", Estonian artist Sander Raudsepp is looking for "answers" to humanity's eternal questions about the otherworld, summing up his thoughts on the inevitable certainty of death.
Meanwhile, "Toponyms" by Aleksejs Naumovs (Latvia) emphasise colour and brilliance as the two constant hallmarks of the artist's style, invariably present in every piece he creates, whatever the geography of each particular site he has visited and captured in his preferred alla prima technique.
Besides the new season's projects, visitors can still enjoy the Mark Rothko 2022 Painting Symposium group show featuring ten international artists.
The new exhibition season at the Daugavpils Mark Rothko Art Centre will remain on show through 19 February 2023.
The exhibitions are supported by the Daugavpils City Council and produced with REACT-EU funding towards Europe's post-pandemic recovery.