III International Festival "Dragon Boat" in Daugavpils
Information has been updated at 19.07.2021, 15:40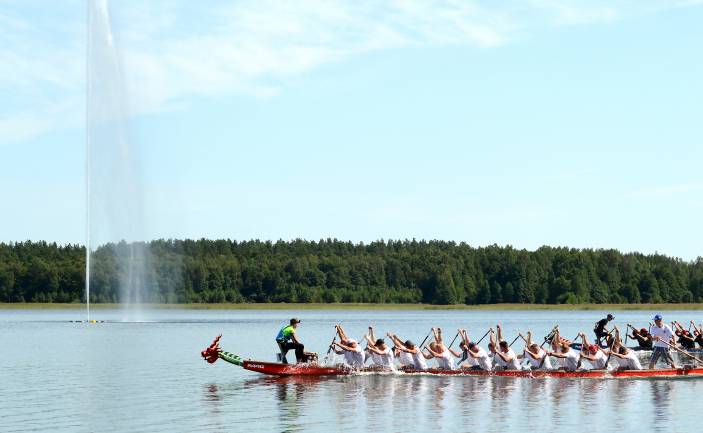 Competition will be held at the rescue station of Lielais Stropu Lake, at Stropu iela 40, on August 7, 2021, from 12.00 noon to 6.00 pm. The competition is organized and conducted by Latgale Water Sports Centre "Dinaburg" in cooperation with the municipal institution "Sports Department" with the support of the Latvian Canoe Federation.
The aim of the festival is to develop and popularize dragon boat rowing in Daugavpils and Latvia, to stimulate peoples' interest in sports and healthy lifestyle.
Both Latvian and foreign athletes participate in the competition. Teams will compete in five groups:
Men - D20
Women - D20
Mixed teams MIX-Sport (rowing experience for a year or more),
Mixed teams MIX-Amateurs (less than a year rowing experience) and
Mixed teams MIX-Children (born in 2007 and younger).
The participation fee for one athlete in each group, except for children's teams – 3 euros (for a team of 20 people – 60 euros). The participation fee can be paid in cash or transferred to the account of Latgales ūdens sporta veidu centrs Dinaburg, reg. No. 40008283746, account No LV57HABA0551046225699, A/S Swedbank, purpose of payment "Par piedalīšanos Pūķu laivas festivālā" (For participation in the dragon boat festival).
Registration in advance is required (team name, group in which the team will compete, list of participants, uniform colour, captain's name and surname, contact information). The application must be sent to the e-mail address dinaburg.dragon@inbox.lv until August 1. Changes on the day of the competition – until 11.00 am.
Each participant will register on the application form (this will be considered accreditation). The application form for minors must be completed and signed by a parent or legal representative. Contact information - Chief Secretary Viktors Haruns, tel. +37127021774.