ERASMUS+ PROJECT'S "RECRUIT POTENTIAL" LAST MEETING IN SWEDEN Education news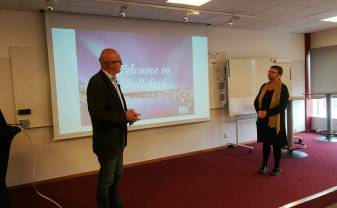 Daugavpils City Council together with Skelleftea municipality (Sweden) is working on the project Recruit potential ("Recruit potential – VET measures for Inclusive Employers"). It is being implemented by five partners from five different countries – Sweden, Portugal, United Kingdom, the Netherlands and Latvia and is financed by the EU program "ERASMUS+". Lead partner is Skelleftea municipality in Sweden.
Last international project partners meeting was held in Skelleftea (Sweden) from September 3rd – 5th. Within this meeting project conference was organized for local entrepreneurs, representatives from public and NGO sectors. It's aim was to disseminate the results of the project – education tool on inclusiveness, and tell more about project partners. Three municipalities – Lousada, Skelleftea and Daugavpils – were presented, as well as two enterprises from the Netherlands and Northern Ireland. Lead partner presented educational material. Project partners were welcomed by Tomas Marklund, the Chairman of the Municipality, Agneta Hansson, Second Vice President of Municipal board and Anja Palm, Municipal Business Development representative. Several study visits were organized – visit to "T2 college" (education for young people, adults and companies), as well as to "Urkraft" which is one of northern Sweden's most successful companies that helps people with disabilities to get into job market.
The project is financed by European Union programm "ERASMUS+". Term of implementation: 01.10.2017. - 30.09.2019.
More about the project here https://www.daugavpils.lv/pilseta/pilsetas-attistiba/projekti/realizacija-esosie-projekti/starptautiskie-projekti/recruit-potential
Information prepared by Coordinator of International Projects Jolanta Reča-Lāže
jolanta.reca-laze@daugavpils