NICHOLAS GATE – A DOOR TO THE PAST: NEW EXPOSITION AT DAUGAVPILS FORTRESS Culture news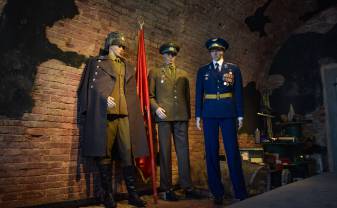 Daugavpils Fortress Culture and Information Centre presents new historical exposition. The new exposition is called "Nicholas Gate – a door to the past" and is located in Nicholas Gate in Daugavpils Fortress.
Historically four gates were built in Daugavpils Fortress but only Nicholas Gate differ from the others with their unique external appearance and the presence of side rooms. In the past, these side rooms were used as a guardhouses and short-term prison rooms. But nowadays they have found new application: a souvenir shop and a Bat Centre have been located at the gates for several years.
The other empty rooms of the gates were turned into a small historical exhibition where large number of artefacts can be seen. History enthusiasts will be able to find many interesting things there. The exhibition includes fortress plans, Soviet army uniforms, a collection of historic bricks and trim, historic windows and doors of civilian buildings and fortifications, and more.
The exhibition will be available from August 23rd, from 10 am to 7 pm. In order to visit the exhibition please visit Daugavpils Fortress Culture and Information Centre (5 Nikolaja street) and purchase a ticket.
The entrance fee: 1 EUR for adults; 0,50 EUR for pupils, students, seniors and persons with special needs.
Information by:
Daugavpils Fortress Culture and Information Centre
Phone: +371 65424043; +371 28686331
Email: cietoksnis@daugavpils.lv
Web: www.daugavpilscietoksnis.lv
www.facebook.com/Daugavpils.cietoksnis