Development of the curriculum within international project "Recruit potential" continuous City news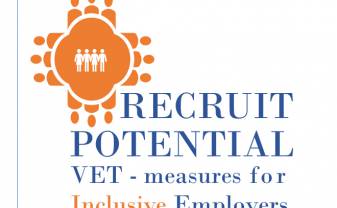 Within the frameworks of the project Recruit potential ("Recruit potential – VET measures for Inclusive Employers") third international project partners meeting was held in Leeuwarden, the Netherlands from September 10th to 13th. Project is being implemented by 5 partners from 5 different countries – Sweden, Portugal, United Kingdom, Netherlands and Latvia and is financed by the EU program "ERASMUS+". Lead partner is Skelleftea municipality in Sweden.
Up to now there were two project meetings - one in Lousada (Portugal) and one in Daugavpils (Latvia). The goal of the project is to implement measures for inclusive labour market by performing analyses of supply and demand of the workforce and by creating a Classroom Course Curriculum. The Recruit potential project will address the challenge that the future labour market demand for specific skills in certain professions, will, in many cases, be higher than the supply. The project meeting in Leeuwarden was mostly dedicated to the development of the content for learning program. It is planned to finish the curriculum this year and translate it into Latvian, Swedish and Portugal.
The project is financed by European Union programm "ERASMUS+". Term of implementation: 01.10.2017. - 30.09.2019.
More about the project - https://www.daugavpils.lv/pilseta/pilsetas-attistiba/projekti/realizacija-esosie-projekti/starptautiskie-projekti/recruit-potential
Information prepared by project's coordinator J.Reča-Lāže