ON AUGUST 29, SEMINAR ON HOUSEHOLD WASTE MANAGEMENT WITHIN THE FRAMEWORK OF THE PROJECT "OUR CITIES PAIRING ON ENVIRONMENT ISSUES" City news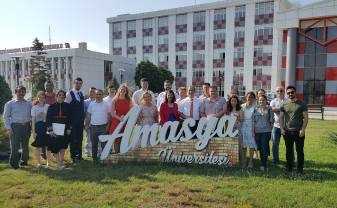 The Daugavpils City Council and its Turkish partners (Amasya region, Suluova city) are implementing a project "Our cities Pairing on Environment Issues". The project aim is to increase the capacity of local administrations/NGOs on waste management practices, increasing awareness of local actors and society on the environment. (More about the project here)
Exchange of good practices, seminars and other activities take place within the framework of the project. On June 13-21, this year, an international meeting was held in Amasya (Turkey) to discuss major environmental concerns, providing an opportunity to learn about Turkey's approach to environmental issues. Participants had the opportunity to visit the municipal landfill, water treatment plant, biogas plant and waste recycling plant in the Amasya region, where experts in the field shared their experiences. Several official visits have been organized. The Daugavpils delegation participated in working groups organized by the Amasya University, where specialists from Latvia and Turkey were able to share experiences, discuss and seek solutions to environmental challenges. Daugavpils city was presented in the Town Twinning Action conference at the Suluova Cultural Center.
In August of this year, the delegation of the Amasya region will visit Daugavpils. As part of this visit, a seminar on waste management in the world, Latvia, Daugavpils and every household.
The event is free, accessible to everyone who take an interest in the environment and sustainability. Caring for the environment is caring for your own health!
Date: August 29, 2019
Venue: Daugavpils City Council, 1 Kr.Valdemāra Street, Daugavpils, conference hall on the 1st floor
Agenda:
9:30 am – Registration, networking and refreshments
10am - 12pm Seminar
To register, please complete the Registration Form here.
Information provided by the project coordinator Ivonna Orlova
tel..: +371 654 76064,
e-mail: ivonna.orlova@daugavpils.lv