Experts of Daugavpils Innovation Centre participated in the international training on design thinking in the development of expositions City news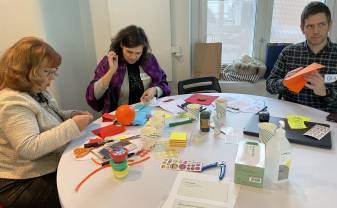 Last December Daugavpils City Municipality in cooperation with the Trondheim Science Centre (Vitensenteret) in Norway https://vitensenteret.com/en implemented a cooperation project activity, within which the employees involved in the project together with the colleagues from the Science and Education Innovation Centre of Liepāja Municipal Education Department https://www.liepaja.lv/liepajaziic/par-ziiic/ focused on community-oriented solutions in the development of expositions for innovation centres.
During the visit, the project partners shared their experience in the field of community-based activities, working and organizing science and innovation informational and educational activities aimed at promoting science and innovation in society. The training was based on a method consisting of the systematic use of techniques in the development of people-oriented solutions or design thinking. The training was led by the design solutions company Inventus, which is the third leading company in this field in Norway.
In the course of the training that took place within the project activity the participants were provided with external expert assistance in the field of exhibition development (prototypes and models for active long-term involvement). During the training, the project staff gained knowledge and practical experience of design thinking and the process of approbation of exhibits. All stages of design thinking were worked on: empathize, define, ideate, prototype and test. The participants of the training actively worked in working groups, focusing on the problems of the upcoming expositions of the innovation centres. New knowledge and experience in the field of design thinking was gained, focusing on the implementation of the Daugavpils Innovation Centre exposition, efficient use of exhibits, ensuring the long-term interest of visitors and a creative approach to everyday work, encouraging the development of innovation and the achievement of project goals in general.
The international training took place within the European Economic Area Financial Mechanism and the Norwegian Financial Mechanism for the period 2014-2021 program "Research and Education" activity "Innovation Centres" project "Development of Innovation Centre in Daugavpils", No. NFI/IC/VIAA/2020/4, Agreement No. 9.-20.2.2.1/4.
More about the project: https://www.daugavpils.lv/pilseta/pilsetas-attistiba/projekti/realizacija-esosie-projekti/starptautiskie-projekti/inovaciju-centra-izveidosana-daugavpili-proj.nr.nfiicviaa20204
Information summarized by the project coordinator Jolanta Ūzuliņa,
More about the project: https://www.daugavpils.lv/pilseta/pilsetas-attistiba/projekti/realizacija-esosie-projekti/starptautiskie-projekti/inovaciju-centra-izveidosana-daugavpili-proj.nr.nfiicviaa20204
Information summarized by the project coordinator Jolanta Ūzuliņa,