LOCAL SOLIDARITY = GLOBAL SOLIDARITY NETWORK 4TH NETWORK'S MEETING IN BULGARIA City news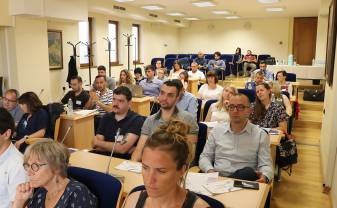 From 11 to 14 of June 2019 the partner of the project – BCLL and Municipality of Veliko Tarnovo was hosting in Bulgaria Veliko Tarnovo the 4th SOLID international event which brought together towns, regions and civil society groups from 12 countries including representatives of Daugavpils City Council.
The project is co-financed by the Europe for Citizens programme, and it aims to empower actors to be socially engaged for the sake of European solidarity and cooperation. The SOLID Network consists of 13 towns, regions and civil society organizations from all over the EU, FYROM and Serbia. The aim of the project is to implement new political tools that enable local communities to have an impact on the global and European solidarity in time of institutional and humanitarian crisis that different EU countries are currently facing.
At the meeting, the partners were informed about the progress of the project and future activities. There were active discussions on topical issues within the framework of the project (issues of intercultural competences of public administration, the impact of local communities on global policy, the European Agenda on Migration as well as the Charter of Fundamental Rights of the EU), giving each participant the opportunity to express their views.
It was also possible to participate in workshops in order to understand the essence of solidarity within the project by elaborating final parts of the Manual for Solidarity 2020.
Next and final project partner meeting is planned in Jette, Belgium in October 2019.
More about the project: https://www.daugavpils.lv/en/city/development-of-the-city/international-projects/vietejas-tikls-solid-en
Information prepared by I.Orlova