Local Solidarity = Global Solidarity Network 5th and final network's meeting in Brussels City news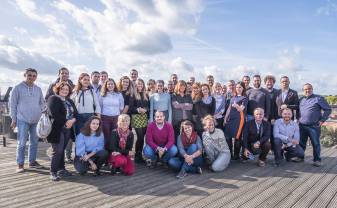 The fifth and final network's meeting within the framework of the "Local Solidarity - Global Solidarity Network" (SOLID) project took place from 9 to 11 October in Brussels (Belgium), bringing together cities, regions and civil society groups from 12 countries , including representatives of Daugavpils City Council.
The purpose of the meeting was to take part in the final meeting of the project, hosted by the Jette Cultural Center with partners from different European Union countries, to encourage democratic and civic participation of citizens at Union level, by developing citizens' understanding of the Union policy making process.
During the meeting partners visited the European Parliament and got acquainted with the "Manual for Solidarity 2020" and Brussels local currency "La Zinne". Partners were also presented with examples of best practices - COOP (a business and cultural center at former Moulart mill) and See U (a cultural center in a former military complex), discussing the use of industrial heritage in contemporary realities within the framework of European Union projects.
The project is co-financed by the Europe for Citizens Programme – Strand 2: Democratic engagement and civic participation, measure "Network of Towns".
More about the project here.
Information provided by the project coordinator Ivonna Orlova
tel..: +371 654 76064,
e-mail: ivonna.orlova@daugavpils.lv