DEVELOPMENT OF METHODOLOGICAL HANDBOOK WITHIN PROJECT TRANS-FORM Education news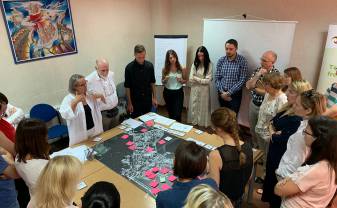 Series of theoretical trainings about planning and implementing sustainable revitalisation of brownfields and study trips for exchange of experience within the frameworks of Interreg V-A Latvia – Lithuania Programme 2014-2020 project No. LLI- 386 "Trans-form" have finished.
Specialists in fields of spatial planning and construction, property management, as well as business and urban development from Latvian and Lithuanian municipalities participated in trainings on different topics, such as revitalization of brownfields, city planning, attraction of investments and other issues that are important for successful urban development.
Project "Trans-form" ends in April next year, at the moment methodological handbook is being developed. This handbook will combine all the experience and knowledge attained during the implementation of the project, including different methods in urban development (e.g. urban gaming – use of board games during public consultation). Value to the material will also be added by company ALPS, atelier landscaping public, private spaces, who are developing the methodological handbook. The final result will be presented during conference at the end of the project and will also be available online.
More about the project:
https://www.daugavpils.lv/pilseta/pilsetas-attistiba/projekti/realizacija-esosie-projekti/starptautiskie-projekti/degradeto-teritoriju-revitalizacija-(transformations-from-slum-to-chic)-trans-form-nr.lli-386
Information prepared by
Sintija Rabčevska, Spatial Development Planner
sintija.rabcevska@daugavpils.lv