Daugavpils University invites third-country nationals to enroll in free courses of Latvian language Education news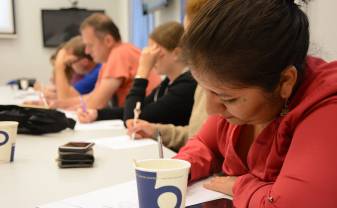 The target audience of the project: third-country (China, India, Ukraine, Belarus, Russia, Tajikistan, Azerbaijan, etc.) nationals who have come to Latvia and legally live on its territory.
The courses will be conducted by highly qualified, experienced teachers using modern methods.
The schedule of the classes will be agreed upon with the course participants after setting the groups.
Information and registration:
It is possible to apply for online Latvian language courses that will be held via ZOOM platform and for face-to-face courses that will be held in the cities of Daugavpils and Krāslava.
More detailed information can be found on the homepage of Daugavpils University ww.du.lv under the section "Latviešu valoda izaugsmei".
The courses will be conducted in the frames of planning the Asylum, Migration and Integration Fund of 2014-2020 for the project Latvian Language for Development, the number of the grant contract is PMIF/6/2021/4/04.
The Project is implemented with the financial support of the Asylum, Migration and Integration Fund (75%) and the Latvian state budget (25%)
THE PROJECT IS CO-FINANCED BY THE EUROPEAN UNION
The publication is implemented with the financial support of the Asylum, Migration and Integration Fund. Daugavpils University is responsible for the contents of this publication