Preschool Educational Institution No. 27 implements ERASMUS + project DEHORS Education news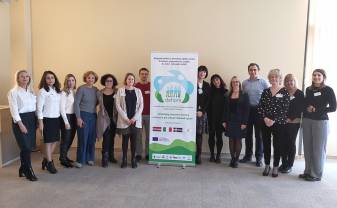 Daugavpils City Preschool Educational Institution No. 27 "Mana Mārīte" (Head of the institution Nataļja Isate), together with Linköping University (Sweden), Motala Municipality (Sweden), Municipality of Casalgrande (Italy), Municipality of Scandiano (Italy), Center for the Advancement of Research & Development in Educational Technology CARDET (Cyprus), as well as the SERN network, within the framework of EU Erasmus+ Programme, are implementing the project "Developing innovative learning contexts in the pre-school ourdoor spaces" DEHORS. The aim of the project is to develop innovative learning area models based on feedback from experts in various fields, approbate them, and improve preschool teachers' skills and abilities for outdoor activities.
In November 2019, the educational institution welcomed project partners in Daugavpils. During the meeting, progress of the project was discussed, key information gathered and work on the curriculum done. Representatives from Daugavpils City Council (Head of the Office for Strategic Planning and Foreign Affairs at the Development Department, Olga Tolmačova, and Coordinator of International Projects, Jolanta Reča-Lāže) attended the meeting. During the event, international partners had an opportunity to watch the daily rhythm of the kindergarten, get acquainted with the changes in the outdoor area of the institution and evaluate the intellectual contribution of the teachers.
As part of the project, preschool educators are trying to find the best ways to make learning fun for each child. In the open air area of ​​the institution, due to the help of parents, the Feeling Trail, the Insect's Hotel, the Stone Maze and the Ladybug Funny Trail have been created.
In the video you can see the successfully created Ladybug Funny Trail for children: https://www.youtube.com/watch?v=k-rFbDkU6iY&feature=emb_title
One of the initiators of the project, SERN Association, which brings together municipalities from Sweden and Italy, has been a reliable project partner of Daugavpils City Council for many years. Cooperation started between SERN and Daugavpils City Council, and now association offers to take part in various types of projects to educational institutions of Daugavpils, which helps to boost the capacity of teachers and improve educational environment in our city.
Information gathered by Office for Strategic Planning and Foreign Affairs,
Development Department of Daugavpils City Council