Shmakovka Museum in Daugavpils becomes more accessible to visitors Culture news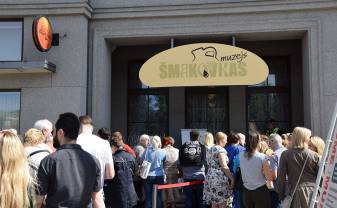 Shmakovka Museum is becoming more accessible and will be open to visitors 7 days a week during the active tourism season from June, 15th. From June to the end of September the working time of the Shmakovka Museum will be from Monday to Sunday from 11.00 to 19.00.
The museum offers a modern and entertaining story about the ancient Latgale spirit, shmakovka, which is an integral part of the culinary heritage. In digital exposition, you can explore the process of producing shmakovka interactively, as well as look at authentic and spectacular manufacturing equipment.
The visitors of the museum can book an informative tour accompanied by a guide or visit the museum individually and use free audio guides that are available in six languages.
Special offers are available for families and groups, as well as for students and seniors. The family ticket (3-8 people) is EUR 2.50 per person.
The price of the visit to the exhibition for groups accompanied by a guide: EUR 3.90 per person (adults) and EUR 2.70 per person (for students, seniors).
On the first Sunday of every month, the price for individual visitors is just EUR 2.15 per person.
It is possible to book a visit by phone +371 65422818, + 371 26444810 or e-mail: info@smakovka.lv.
More information about the museum: www.smakovka.lv.
The information is prepared by:
Viktor Andruskevich
Head of exposure of the Shmakovka Museum
Tel.: +371 65422818; +371 26444810
Email: info@smakovka.lv
WEB: www.smakovka.lv
www.facebook.com/SmakovkasMuzejs