Māris Čačka's solo exhibition "Direct Dialogues" opens to the public Culture news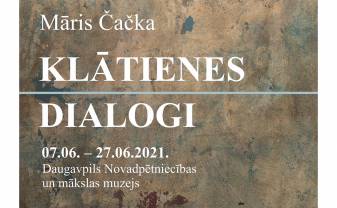 As museums and other art spaces reopen for individual visitors, artist Māris Čačka's solo show "Direct Dialogues", featuring vast works on canvas, is ready to receive visitors at Daugavpils Local History and Art Museum (Latvia). The exhibition will be available 7 through 27 June.
"Direct Dialogues" is a reunion show – this year's first opportunity to resume in-person visits to museums and exhibition grounds and enjoy a face-to-face public encounter with the latest body of work by artist Māris Čačka. In the present circumstances, an individual artistic experience that involves direct interaction between art and the viewer, who surrenders to its impact, tries to make sense of the artist's abstract dialogues and decode his intended message, becomes all the more precious. The exhibition was set up at the museum back in February, and now, four months on, it is about to welcome the first visitors.
To quote from the artist, "…I'm never alone or lonely because, directly or not, I'm always involved in an ongoing dialogue with another Person – this has been the leitmotif to my creative journey throughout the past 20 years since my first one-man exhibition. For better or worse, the events of the past 18 months have affected us all. We've been starved of interaction, which has always been a fundamental driving force for new ideas and their fulfilment. This time has taught us some important lessons. Also, how to dialogue across a distance…"
In the new series of large-scale pieces created over the past couple of years, Māris Čačka continues the theme of dialogues which has absorbed him for some time and has been made public in a few of his previous major solo shows, such as "Definite and Indefinite Dialogues" (Dubulti Art Station, 2018, Latvia) and "Dialogues. Parallels. Dimensions" (National Centre for Contemporary Arts, Belarus, 2019; Madona Local History and Art Museum, Latvia, 2020). This time, the focus is on 'direct dialogues' as the artist explores an essential component of our everyday life – the need for interpersonal interaction.
Curator Tatjana Černova writes in the exhibition synopsis: "To depict communication and social contacts in their myriad shapes and forms, Čačka uses his signature blend of painterly and graphic means of expression. He spins his visual stories with a dialogical structure and uses layers and layers of colour to conceptualise the transformation of his sentiments, recording the effects of spoken and unspoken words, encounters, reflections and emotions. The overlapping nature of daily interactions is visualised through generous layering by adding and removing coats of paint, using the elements of monotype, glazing and other graphic means and touches until the creator arrives at the final composition that embodies his intended vision. Occasionally, one dialogue blends into another. According to the artist, the different layers within one piece reveal cross-communications and resumed conversations, much like in real life, where we are perpetually awash with waves and waves of information and interaction. A keen eye for creative experiments and a bold commitment to combining seemingly incompatible media and techniques continue to shape and develop Čačka's individual artistic style."
The exhibition is organised by Daugavpils Local History and Art Museum in cooperation with SIVIA Gallery.
About the artist:
Māris Čačka (1976) is a graphic artist, art educator and curator of international art projects. His academic qualifications include a doctoral degree in education (2009) and a master's degree in art (2011). Currently director of Daugavpils Mark Rothko Art Centre (since 2020), he has been at the institution from its establishment, formerly as creative director and deputy head. Čačka has lent his expertise to the Visual Arts Council under the auspices of the Ministry of Culture of the Republic of Latvia (2020 onwards) and served for two terms on the visual arts expert committee of Latvia's State Culture Capital Foundation (2016–2017 and 2021 onwards), acting as committee chair in 2017 and 2021. Membership in creative associations has him affiliated with the Art Teachers Union (co‑founder, 1998), SIVIA Gallery (founder, 2019), Latvian Artists Union (2010) and the Latvian Chamber of Graphic Art (2011). Dating from 1997, Čačka's exhibition record amounts to 85 shows in Latvia, Lithuania, Belarus, Italy, Sweden, Germany, Ukraine, Poland and China, including 24 solo shows across domestic and international grounds. His curatorial activities add up to more than 70 international art projects and symposia (2004–2021). The artist's work is held in museum and private collections in Latvia, Lithuania, Germany, UK, Poland and Norway.
Venue:
Daugavpils Local History and Art Museum
8 Rīgas Street, Daugavpils, Latvia
Opening hours:
Monday: 10 a.m. – 4 p.m.
Tuesday: 10 a.m. – 6 p.m.
Wednesday: 10 a.m. – 6 p.m.
Thursday: 10 a.m. – 6 p.m.
Friday: 10 a.m. – 6 p.m.
Saturday: 10 a.m. – 6 p.m.
Sunday: 10 a.m. – 4 p.m.