EXHIBITION OF DOLLS IN THE SHOP WINDOWS OF DAUGAVPILS TOURISM INFORMATION CENTRE Culture news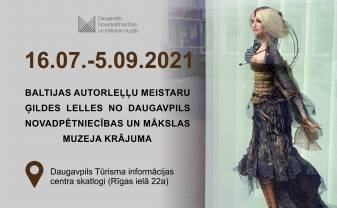 Daugavpils City Municipality Tourism Development and Information Agency continues the cycle of exhibitions "Skats no loga" ("View from the Window") in the shop windows of Daugavpils Tourism Information Centre. This time in the shop windows at 22a Rīgas Street there is an exhibition of dolls of the Baltic Guild of Author Doll and Toy Artists from the collection of Daugavpils Regional Studies and Art Museum.
The movement of author dolls began to develop rapidly in the middle of the 20th century as opposed to mass production and the desire to seek new creative paths. Author dolls differ from ordinary manufactured dolls in that each doll is unique, one of a kind. Author dolls are made by hand, down to the smallest detail, each artist has his or her own unique handwriting and set of techniques.
The Baltic Guild of Author Doll and Toy Artists was founded on April 6, 2009 in Riga. It is an international non-profit voluntary association. The guild consists of representatives of four countries from Latvia, Lithuania, Estonia and the Kaliningrad region of the Russian Federation. The Baltic Guild actively participates in international exhibitions in Latvia, Lithuania, Estonia, Russia, Spain, the Czech Republic, as well as constantly cooperates with various exhibition halls and museums.
The colourful world of dolls is always a reflection of reality and our fantasies. And, as in any form of art, the master's experiences are reflected in their works. Residents of Daugavpils and guests of the city are invited to take a walk around Daugavpils and see the glorious world of dolls. The exhibition will be open from July 16 to September 5.
Additional information:
Daugavpils Regional Studies and Art Museum
e-mail: museum@daugavpils.lv
tel.: 20203713, 65424155
www.dnmm.lv