BRANCHES OF LATGALE CENTRAL LIBRARY RECEIVE SPECIAL BOOK SETS IN ENGLISH Culture news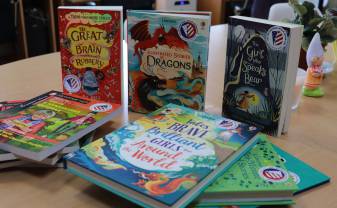 The USA Information Center of the Latgale Central Library has prepared special sets of books for learning English for children and young people, which will be available in the library branches.
The book sets include fiction for children and young people who fluently read in English, as well as books for learning the language at different levels with additional tasks based on the text. Books with parallel texts in English and Russian are also available, which makes it easier to read and understand the text.
The books sets are purchased with the support of the U.S. Embassy in Latvia and marked with a special sticker "The U.S Embassy Donation".
Information prepared by:
Head of the USA Information Center
Diāna Celitāne
Tel: 65422483
e-mail: diana.celitane@lcb.lv
https://www.facebook.com/InfoUSADaugavpils