DAUGAVPILS SINFONIETTA BIRTHDAY CONCERT Culture news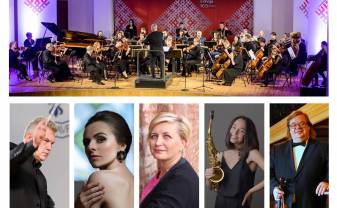 On September 28 at 6.00 pm the orchestra's "Daugavpils Sinfonietta" birthday concert "Towards the European Capital of Culture" will take place in the concert hall of the Unity House (Rigas Street 22).
Every year on September 28 the orchestra "Daugavpils Sinfonietta" celebrates its birthday. This year the orchestra will celebrate it already for the 14th time. This year is also important for the city with the fact that Daugavpils will continue to compete for the title of the European Capital of Culture 2027.
Thus, this time the orchestra will play festive and popular, but stylistically varied music – baroque, classical music, romance and modern music.
Soloists will perform with the orchestra: soprano Margarita LEVČUKA from Belarus; violinist Jurijs SAVKINS from Riga; Daugavpils musicians Ilona BROKA (piano) and Marta TROFIMOVIČA (saxophone).
Conductor: Aivars BROKS.
Tickets available at the box office of the Unity House concert hall on working days from 4.30 pm to 6.30 pm, price: 3.00 euros.
NOTE:
The imposed restrictions related to the spread of the coronavirus pandemic are maintained in Latvia. Only people who are vaccinated or have recovered from the virus and have a valid digital certificate will be able to attend the concert. Concert attendees must arrive on time, with a QR code printed or downloaded on phone and an identity document (passport or ID card).
The events of the X Music and Art Festival "Daugavpils ReStArt 2021" are photographed and filmed for the publicity and historical needs of the Culture Department.