2nd International Doll Festival in Daugavpils Culture news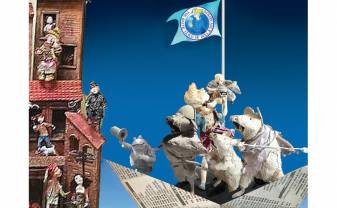 From June 28, 2019 to June 30, 2019 the 2nd International Doll Festival will be held in Daugavpils
For the second time Daugavpils Regional and Art Museum will receive in its premises artists, masters and fans of author dolls from all over the world. The moto of the festival of 2019 is "Dolls and Paper". Two exhibitions will be open during the festival.
The leading artist of the Baltic Guild of Author Doll and Toy Artists Tamara Chudnovska (Tamāra Čudnovska) will present her personal exhibition "Miracles Made of Paper". It will be a stunning retrospective of different technologies, materials, topics and themes, which have been used for creation of dolls, toys, post cards and books since the middle of the 20th century. The other exhibition will acquaint visitors with the works of modern author doll artists from 8 countries. The goal of each author is to discover his/her vision in the framework of a definite theme and choose his/her methods, creating paper dolls. Visitors will see many new, interesting, sometimes unexpected things.
During the three days of the festival the artists from different countries will conduct various workshops for children and adults. The visitors will learn how to create dolls and other objects using the paper. T.Chudnovska will offer the course about the history of paper dolls. The programme of the festival includes concerts, animators, puppet shows.
The programme of the festival will be published in the upcoming days. Follow the information. Welcome to the festival.
Additional information:
President of the Baltic Guild of Doll and Toy Artists Diana Gubanova
+371 29502592
Daugavpils Regional and Art Museum
+371 65424155