Travel campaign "Daugava unites" City news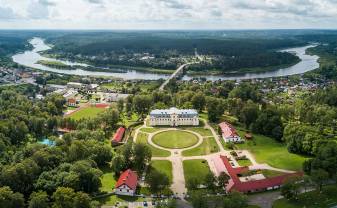 Spring is in full swing and delights with the warm rays of the sun and fragrant air, while everything is ready to blossom and thrive. Very soon the favourite season – summer – will come. Many yearn for exciting trips, new impressions and adventures, so Daugavpils City Municipality Tourism Development and Information Agency, Krāslava District Council Tourism Information Centre and Daugavpils District Municipal Agency "TAKA" have jointly created a new tourism product and offer everyone to participate in a travel campaign "Daugava unites", which will take place from May 1 to October 31 this year.
During the travel campaign, travellers can indulge in an unforgettable holiday on the banks of the Daugava, get to know the TOP objects of Daugavpils, Krāslava and Daugavpils district, feel the charming urban atmosphere and enjoy the irresistible nature of the nature park "Daugavas loki", as the Daugava has become the unifying symbol of this campaign.
Participating in the campaign, travellers can get valuable prizes. The total prize fund is 2,500 EUR, and consists of gifts from campaign supporters, tourism entrepreneurs, local home producers, etc.
In order to participate in the campaign, participants need a Tourist Passport (digital version available on the below-mentioned websites) and must visit at least 5 objects from each territory involved in the campaign (15 objects in total).
Additional information about the terms of the campaign, TOP objects, supporters and the prize fund can be found on the websites www.visitdaugavpils.lv/bukleti and www.visitkraslava.com/lv/turisma-materiali.