Stay at home and get acquainted with the virtual tourism offer in Daugavpils City news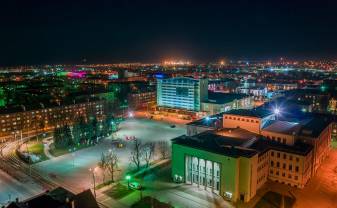 In order to reduce the risks of further spread of Covid-19 among Latvian residents, according to the epidemiological situation, the government has adopted strict rules to limit the assembly of people at private and public events. Restrictions regarding physical contact apply to public indoor and outdoor activities and lay down the rules in respect of a distance of two metres and two persons.
According to the decision of the Cabinet of Ministers on the emergency situation in the country, many of Daugavpils tourist attractions are closed to visitors, however, the work continues and we offer to virtually enjoy cultural and tourism opportunities.
Daugavpils Mark Rothko Art Centre presents virtual events - exhibition "Paintings" by Marc Renard, exhibition "Mark" by Latvian Jewellery Art Association, "The Garden of Forking Paths" by Marina Kapilova, "Final Traces of the Abstract Expressionists" by Caro Jost, "The Skin of Appearance" by Delia Maxim, "Graphic Art" by Romas Viesulas, as well as video from the 9th International Latgale Graphic Art Symposium's exhibition "Person and Time". There are also many photo galleries and videos with expositions displayed in Daugavpils Mark Rothko Art Centre.
Daugavpils Regional Studies and Art Museum has created a virtual insight into the latest exhibitions available in the museum, including the exhibition "The World of Hats" from the collection of world peoples' traditional hats and headwear by the ethnic museum "The World of Hat" in Riga. You can also see the solo exhibition of Janis Anmanis "With the God's sign in the palm", as well as the exhibition "In Transparent Meadows" presented by the creative association "Watermarks" and spatial artworks of Pjotra Hudobčenoka "Daugavpils Stories".
Daugavpils Theatre on its Facebook page invites you to participate in the quiz "Keep your mind sharp together with Daugavpils Theatre!", where participants are required to solve riddles and guess melodies that are associated with the theatre. A special collection of "Teātris.zip" project offers an opportunity to watch the Daugavpils Theatre play "Anniversary '98"", which was awarded "The small form performance of the year" at the Latvian national theatre award "Spēlmaņu nakts" in 2017. Younger spectators are invited to watch the performance "Leo - The Little Lion".
Daugavpils Innovation Centre offers to virtually follow the experiments that children together with their parents can carry out while staying at home during the quarantine time, thus making their everyday life more interesting and creative, as well as to learn physics, mathematics and chemistry in an unusual way.
Daugavpils Clay Art Centre offers a virtual exhibition "Ceramics. Basketry. Textiles" by decorative art studios "Latgale", "Klūga" and "Bauska".
The Centre of Russian Culture hosts online reader competition "Do you know? Do you know? Do you know? Do you know? Of course, you know!", which is dedicated to Russian writer Daniil Kharms' 115th birthday.
Latgale Central Library offers an opportunity to read e-books free of charge at 3TD e-book library www.3td.lv with personalized recommendations and feedback from library staff. Every day, three recommendations are offered to match various readers' tastes.
Family Digital Activity Hub offers compiled information on the opportunities to read e-books, learn useful information about nature, technology and art.
Daugavpils Tourism Information Centre offers informative videos about tourism opportunities in Daugavpils. The Lithuanian National Television Programme "Stop juosta" about Daugavpils city is available here. You can get information about the famous Latgalian beverage Shmakovka by viewing the video "Shmakovka's path in Latgale". During this time Daugavpils invites you to relax and get ready for the tourist season by virtually exploring the beautiful city "Daugavpils - take your time, have a rest and enjoy!". On Daugavpils Tourism Information Centre website https://www.visitdaugavpils.lv/en/you can see photo galleries with most recent pictures of spring in Daugavpils, as well as on youtube channel you can watch educational videos about current events in the city on the Facebook website get the most up-to-date information about cultural life in Daugavpils.
In support of local catering companies, Daugavpils City Municipality Tourism Development and Information Agency has created a list of local caterers (restaurants, cafes, gastrobars, fast service restaurants and pizzerias), offering the opportunity to order a delicious festive meal as take-away or with delivery in Daugavpils.
Wishing you a wonderful spring season!
We will continue to add and update information herein. If your tourist attraction is not on the list, we kindly ask you to contact us by e-mail turisms@daugavpils.lv.