Easter atmosphere in Daugavpils Tourist Information Centre City news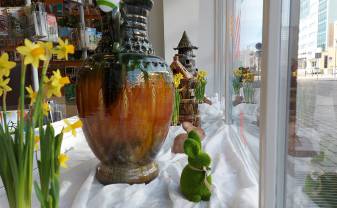 Easter waiting time is a moment when people spend time with their families, friends, and loved ones. Many have their own traditions of making this holiday time unforgettable – tidy up their homes, paint eggs in bright colours and bake a sweet Easter cake according to their grandmother's recipe, as well as go see the decorated city.
Daugavpils has already been decorated for the Easter holiday. Bright Easter eggs can be seen in Vienības Square. Trees on Rīgas Street are decorated as well: not only an integral attribute of Easter, but also unusual birds have settled on their branches. The holiday has come to different neighbourhoods of the city: although the snow still stubbornly covers the flower beds and the real flowers have not managed to show themselves in all their glory, wooden tulips and crocuses have already "blossomed" in various parts of the city. The Daugavpils fortress is decorated with colourful butterflies.
Daugavpils City Municipality Tourism Development and Information Agency continues the tradition of creating an exhibition "Skats no loga" ("View from the Window") in the shop windows of Daugavpils Tourism Information Centre. This time in the shop windows at 22a Rīgas Street you can see an exhibition dedicated to the Easter waiting time. The exhibition "Lieldienas sagaidot" ("Waiting for Easter") by the well-known ceramicists of Daugavpils Clay Art Centre Marija and Jānis Saikovskis is offered for every inhabitant and guest of the city. The exhibition features fairy-tale houses, an Easter hen and a chicken made of clay, as well as various Easter decorations. The composition is complemented by fluffy chickens and bunnies, coloured eggs, as well as daffodil flowers.
Let`s go for a walk around Daugavpils and see the glorious city decorated for the holiday! It will create a lot of positive emotions and make everyone happy.
Have a beautiful, bright and peaceful Easter waiting time!
Information prepared by:
Daugavpils City Municipality Tourism Development and Information Agency
phone: +371 65422818; +371 26444810
E-mail: turisms@daugavpils.lv
Web: www.visitdaugavpils.lv
Facebook: www.facebook.com/Daugavpils.travel