The inhabitants of Latgale Zoo are ready to meet visitors City news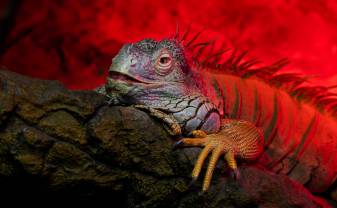 Latgale Zoo in Daugavpils, which is one of the most popular tourist attractions and a favorite place for families, is open to visitors starting from 27 May, 2020. In keeping with the restrictions and safety measures decreed by the government, up to 11 visitors will be allowed to visit Latgale Zoo at the same time, keeping 2 m distance. It is also recommended to avoid touching different surfaces - railings, borders, terrarium glass, and informative stands.
Opening hours of Latgale Zoo will be from Wednesday to Sunday 10 am – 6 pm. Duration of a visit will be limited to 30 minutes.
In the restored exhibition of Latgale Zoo, which looks like an artificial jungle, it is possible to see various exotic animals – monkeys, pythons, crocodiles, turtles, iguanas, scorpions and other inhabitants of tropical forests and Latvian landscapes. Visitors of Latgale Zoo can see animals in the exposition and obtain information in groups up to 5 persons while thematic hours. In the yard of the Latgale Zoo a true hobbit house for insects and spiders is located.
To get information, please contact Latgale Zoo by phone +371 65426789, +371 29621191 or email: latgaleszoodarzs@daugavpils.lv.
Visitors are asked to assess their health and postpone the visit in case of having any respiratory disease symptoms or implementing a self-isolation order. Hand sanitizers will be available in the Zoo.
See you at Latgale Zoo!