DAUGAVPILS TOURIST INFORMATION CENTRE RESUMES PROVIDING SERVICES TO VISITORS City news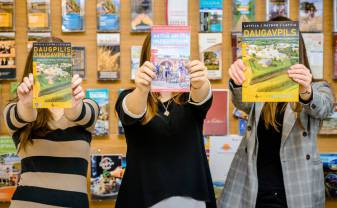 Starting from 16 May 2020, Daugavpils Tourist Information Centre (TIC) is open to visitors. In keeping with the restrictions and safety measures decreed by the government, up to 3 visitors will be allowed to visit Daugavpils TIC at the same time, keeping 2m distance. At the moment, it is possible to book walking tours around the city, accompanied by a guide, for groups up to 10 people wearing face masks.
Opening hours of Daugavpils TIC from May till September will be 10 am - 6 pm every day. Duration of a visit will be limited to 20 minutes.
Visitors are asked to assess their health and postpone the visit in case of having any respiratory disease symptoms or implementing a self-isolation order. Hand sanitizers that are available at the Daugavpils Tourist Information Centre.
To get tourist information remotely, please contact us by phone +371 65422818, +371 26444810 or email: turisms@daugavpils.lv.
Daugavpils Tourist Information Centre offers informative materials about sightseeing places in Daugavpils, Daugavpils District and other tourist facilities in Latvia. It is possible to book guided city sightseeing tour, guided tours in Daugavpils Fortress and Shmakovka Museum as well as to buy memorial souvenirs in the centre. Daugavpils TIC also provides copying and scanning services.
Information prepared by:
Daugavpils City Municipality Tourism Development and Information Agency
Phone: +371 65422818; +371 26444810
E-mail: turisms@daugavpils.lv
Web: www.visitdaugavpils.lv
Facebook: www.facebook.com/Daugavpils.travel