DAUGAVPILS ATHLETES REPRESENT LATVIA AT OLYMPIC GAMES IN TOKYO City news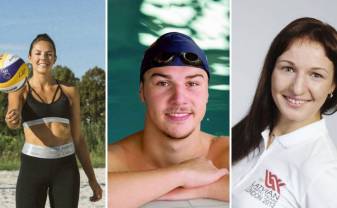 From July 23 to August 8, the Summer Olympic Games take place in Tokyo, in which three Daugavpils athletes also participate in the Latvian Olympic team.
Given the circumstances of the Covid-19 pandemic, the 2020 Tokyo Olympics were postponed to 2021. This year, Daugavpils athletes Anastasija Grigorjeva (freestyle wrestling), Anastasija Kravčenoka (beach volleyball) and Jurijs Semjonovs (para swimming) will take part in the Olympics as part of the Latvian Olympic team.
Special thanks to the coaches – Ļubova Kopilova, Nataļja Novikova and Igors Granovskis, who have raised an excellent generation of athletes, as well as the current coaches Ahto Raska, Genādijs Samoilovs and Haralds Lučkovskis for their work in promoting the success of our athletes.
The official opening of the Tokyo Olympic Games will take place on Friday, July 23. In total, Latvia will be represented by 89 athletes, including three representatives from Daugavpils.
Information prepared by:
Public Relations and Marketing Department of Daugavpils City Council