Daugavpils received protective face masks from Harbin City news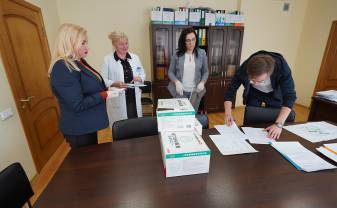 Harbin is a sister city of Daugavpils in the People`s Republic of China. The cooperation agreement was concluded on January 6, 2003. During this time, a very productive and warm friendship has developed. Once again, at a difficult time, friends in China responded and provided assistance, although the situation in Harbin is also difficult. 1800 protective face masks have been sent from Harbin to the sister city in Latvia.
"Friendship and cooperation between Daugavpils and Harbin lasts for more than 17 years. During this time, we have tried to get to know the culture and history of our peoples. Exchanged experiences on urban management, business promotion, tourism development, education and health issues. We are grateful to our friends in Harbin for their solidarity and support during this difficult time for the whole world. The protective face masks sent by them will be useful for our Children's Polyclinic, Dental Polyclinic, Regional Hospital and Daugavpils University to provide the necessary health protection measures," said the City Council member Līvija Jankovska.
Public Relations and Marketing Department of City Council