Experts of Daugavpils Innovation Centre Gained International Experience from Norwegian Partners City news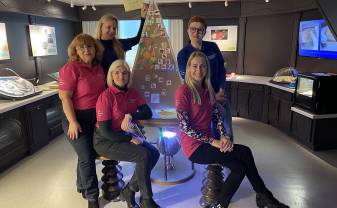 Daugavpils City Municipality in cooperation with the Trondheim Science Centre (Vitensenteret) in Norway https://vitensenteret.com/en implemented two cooperation project activities in April this year. The first of the activities was training, in the framework of which the employees involved in the project together with the colleagues of the Liepāja City Education Department Science and Education Innovation Centre https://www.liepaja.lv/liepajaziic/par-ziiic/ focused on community-oriented solutions in the development of innovation centre expositions. The second activity was an exchange visit.
During the activities, the project partners shared their experience in the field of community-based activities, working and organizing science and innovation information and educational activities aimed at promoting science and innovation in society. The training was based on design thinking. The training was led by design solutions company Inventus, which is the third leading company in this field in Norway. As part of the project activity, the participants were provided with external expert assistance in the field of exhibition development. During the training, the project staff gained knowledge and practical experience of design thinking and the process of approbation of exhibits. Special attention was paid to the following stages of design thinking: prototyping and testing, visitor testing, complex content and process. The created prototype was tested at the Trondheim Science Centre by four groups of visitors who provided feedback. New knowledge and experience in the field of design thinking was gained, focusing on ensuring the maximum interest of the visitors of the Daugavpils Innovation Centre exposition.
During the exchange visit, the project partners shared their experience in developing and implementing educational programs aimed at realizing and supporting young people's ideas. The content of the Talent Program was presented, participation in the activities of the program together with young people. The project participants also took part in the process of prototyping and testing the ideas of the Talent Program of the Trondheim Science Centre. During the visit, there was an opportunity to ask questions and engage in active discussions on topical issues in the program development and implementation process.
International training and exchange visit were implemented within the European Economic Area Financial Mechanism and the Norwegian Financial Mechanism for the period 2014-2021 program "Research and Education" activity "Innovation Centres" project "Development of Innovation Centre in Daugavpils", No. NFI/IC/VIAA/2020/4, Agreement No. 9.-20.2.2.1/4.
Information provided by the project manager Jolanta Ūzuliņa,