Daugavpils will host a celebration of the 230th anniversary of the first European constitution City news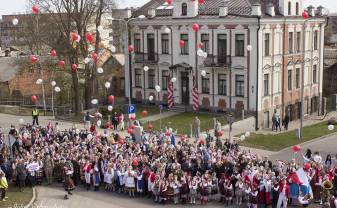 On May 3, 1791, a new constitution was adopted in the Polish-Lithuanian state. "The Constitution of May 3", as this document is called in the history of Poland and Lithuania, was one of the most progressive basic laws at that time. The adopted constitution was inspired by the political and public opinion of the European Enlightenment and the Constitution of the United States of 1787. Polish lawmakers believed that the government should serve the good of the whole nation, not the interests of a few.
On May 3, Poland celebrates a national holiday in honour of the adoption of the constitution of 1791. This year marks the 230th anniversary of the Constitution of May 3, Europe's first constitution. 2021 was declared the year of the Constitution of May 3 in Poland.
On May 3, celebrations will take place in Daugavpils with the participation of representatives of both nations: Poles and Lithuanians, living in Daugavpils, as well as representatives of the Embassy of Poland and the Embassy of Lithuania in Latvia. Due to the Covid-19 pandemic, traditional celebrations will be held in a different format. Instead of the festive procession, there will be a patriotic car ride through the streets of Daugavpils. The central events will take place at the memorial cross to the fallen Polish soldiers in Daugavpils Brīvības (Freedom) Park.
In early May, Poles of Daugavpils also celebrate the Polish National Flag Day and the Day of Polish Communities Abroad (May 2), as well as the Warsaw Street Festival (May 3). The traditional festive concert and some events were cancelled due to the pandemic, but there will be a Holy Mass dedicated to Poles living abroad at the Daugavpils Immaculate Conception of the Blessed Virgin Mary Roman Catholic Church and the opening of a photo exhibition at the Polish House dedicated to the 30th anniversary of the folk-dance group "Kukułeczka".