Admire the beauty of the Daugava River during water trip on a raft or boat City news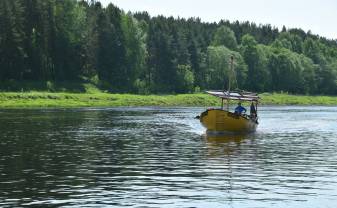 With the arrival of summer, from June 1 to October, boat rental "Beibuki" offers water trips along the Daugava River with a motorized raft "Sola" and a boat "Dina". The Daugava is the right place to enjoy the beautiful and diverse landscapes of Latvia's nature. A trip along the Daugava is a great way to get to know the city from a different point of view, as well as a great idea for a romantic evening for two or a family holiday adventure.
Anyone has a possibility to go on a water trip on the raft "Sola" and the boat "Dina" according to the timetable: Monday to Friday from 4.00 pm to 8.00 pm, Saturdays and Sundays from 12.00 noon to 8.00 pm. You can also book a trip at other times by contacting boat rental in advance by phone: +371 26920349, +371 26833538 and +371 29493121. In case of strong wind or unfavourable weather conditions, the service is not available.
During the trip, passengers have the opportunity to see the Vienības (Unity) Bridge, Bruģa Street promenade, Daugavpils Fortress, protection embankment, city districts and beautiful nature views. The starting point of the trip is the quay "Centrs" (on the bank of the Daugava under the arch at the embankment at the beginning of Rīgas Street).
There are trips of various duration: 30 min or 1 h trip. The fee for a 1-hour trip is 5 EUR (for adults) and 3 EUR (for children). A 30 min trip costs 3 EUR (for adults) and 2 EUR (for children). The boat "Dina" and the raft "Sola" can accommodate 15 passengers at the same time and delight both children and adults. The time and route of the trip can be adjusted to the customer's wishes. Telephone numbers for communication and additional information: +371 26920349, +371 26833538 and +371 29493121.

Information prepared by:
Daugavpils City Municipality Tourism Development and Information Agency
Phone: +371 65422818; +371 26444810
E-mail: turisms@daugavpils.lv
Web: www.visitdaugavpils.lv
Facebook: www.facebook.com/Daugavpils.travel