DELEGATION FROM SWEDEN VISITED DAUGAVPILS WITHIN NORDIC MOBILITY PROJECT Council news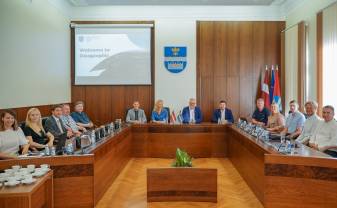 On Monday, August 22nd, within the project "Intelligent Nordic-Baltic Ecosystems", delegation from Vänersborg municipality (Sweden) visited Daugavpils.
Thanks to Nordic-Baltic Mobility Programme for Public Administration, Vänersborg municipality (Sweden), Daugavpils city municipality (Latvia) and Tartu municipality (Estonia) are implementing the project "Intelligent Nordic-Baltic Ecosystems". Project aims to boost the public administration authorities of the participating cities to become the engines for the recovery of their local economy and strengthen citizen participation and wellbeing.
Specialists from Vänersborg municipality together with specialists from Daugavpils city municipality participated in the seminar regarding the infrastructure of e-governance and successful digitalization of services that are offered by municipality to its citizens.
Vänersborg municipality plans to learn about the best practices in the field of e-governance and digitalization of services from all countries involved in the project. Therefore on Wednesday, August 24th, delegation from Sweden will also visit Tartu municipality in Estonia.
Information prepared by
Communication department of Daugavpils city municipality