Partners from Turkey get acquainted with Daugavpils experience in the field of ecology Council news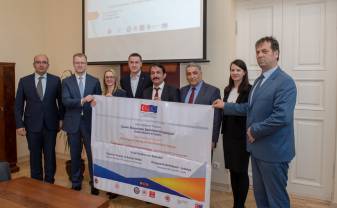 Daugavpils City Council and partners from Turkey (Amasja and Suluova) are implementing the project "Our Cities Pairing on Environment Issues".
Exchanges, seminars and other activities take place within the framework of the project. Turkish delegation has visitied Daugavpils. A meeting was held with the Major of Daugavpils Andrejs Elksniņš and 1st Deputy Igor Prelatov. Experts from Turkey visited the Public Utilities Department, where they learned about activities carried out in Daugavpils in the field of ecology. The delegation also visited the company "Daugavpils Ūdens", to see a water treatment plant, the Waste Management landfill as well as several natural objects.
The information has been prepared by the department of the public relations of Daugavpils City Council