Nomination results of the award 'Sport Laureate – 2012' have been announced Sport news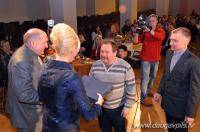 On Friday, in a festive ceremony, the best athletes of 2012 in 13 different nominations were announced. Dmitrijs Jurkevičs was awarded as the year's best sportsman and Anastasija Grigorjeva was awarded as the best sportswoman.
In the "Sport Laureate – 2012" ceremony the best athletes of the last year in 13 different nominations were announced as well as individual awards were given to coaches and to people who work in the sports sphere and by their own example helped to popularize sport in the city. After a year break, Anastasija Grigorjeva -the European vice Champion who ranked 9th place at the London Olympic Games in 2012 was recognized as the year's best sportswoman.
Athlete Dmitrijs Jurkevičs gained the 6th place at the European Athletics Championships in 2012. He rectifiedLatvia's record and participated in the Olympic Games.
Chairperson of Daugavpils City Council Žanna Kulakova and her deputies – Vitālijs Azarevičs, Vjačeslavs Širjakovs and Līvija Jankovska participated in the festive ceremony. Guests were entertained by show of the girls from "Stop Time Dance Studio" and music band "Dabasu Durovys".