City Council management thanked the veterans of sport for the promoting the name of Daugavpils Sport news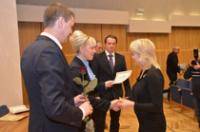 On the 20th of DecemberDaugavpilsCity Council was attended by the veterans of sport. The solemn event was opened by triathlonist, honorary citizen ofDaugavpils, AnatolijsĻevša. He expressed his gratitude for the great support of sport veterans' activities by local government. Daugavpils City Council Chairperson Žanna Kulakova spoke to the sportsmen
The mayor emphasized that the athletes popularize the name of the city with their achievements, so she warmly thanked the muster for the work, success, active life position and patriotism. Sports veterans are a great example for the new generation, with their work and the awards they promote active, healthy lifestyle. Also, government's aim is a healthy society, where goals coincide and the best evidence is the City Festival, which this year was devoted to the sport. In addition, the local government pays much attention to sports infrastructure modernization, has big plans for the future. There is found an opportunity to reward the most outstanding athletes' achievements, each year the financing of sport is increasing. Daugavpilsmunicipality is working to attract a wide variety of sports events exactly in Daugavpils, which promotes the identification of Daugavpils, increases the number of tourists. A good proof of this is the European Snooker Championship. Several major sporting events are also planned for the next year. Mrs. Kulakova congratulated the athletes with Christmas and wished further progress in the New Year.
Daugavpils City Council vice-chairman Vjačeslavs Širjakovs expressed gratitude for this year, for hard work and success. He wished the athletes health and good luck in the New Year.
The athletes were honored by local government's and Sports veterans' Council diplomas.