The best students of Sport School were awarded Sport news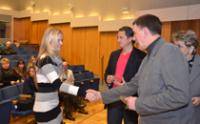 The best students of Daugavpils Children andYouthSportsSchoolwho successfully participated in Latvian and international competitions in 2012 were greeted in Daugavpils City Council big hall.
More than 1,700 students are studying and are involved in sport at Daugavpils CYSS, many of whom are making significant progress at various levels competition. In 2012 year successfully was started Latvian third Olympiad, as well as other Latvian scale matches and international tournaments. Next year, the most important sport event for the school representatives will become the main Latvian Youth Olympics.
On WednesdayDaugavpilsCity Council greeted the best sportsmen of year 2012. Among them was a member of the London Olympics Anastasija Grigorjeva. The number of Latvian champions has become more than 150, totally 179 sportsmen were greeted.
Progress was made in all 16 ways of sports subordinated by CYSS:
15 –Free style wrestling
6 - Greco-Roman wrestling
8 - Weightlifting
4 - Fencing
10 - Athletics
7 - Biathlon
5 - Bullet shooting
1 - Tennis
13 - Boxing
1 - Swimming
4 - Figure skating
14 - Basketball
10 - Football
71 - Volleyball
8 - Hockey
1 - Rowing
Information prepared by NaurisMackevičs, Daugavpils Sport Department