Daugavpils City Council's management congratulated football team "Daugava" for the won champion title Sport news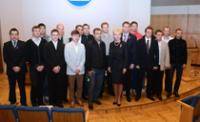 On the 12th of November the Daugavpils City Council invited team's "Daugava" football players and coaches. City Council's management thanked the team for the promotion of the name Daugavpils and winning Latvian Champion title.
This is the long awaited and unseen before event in Daugavpils sporting life . Congratulating the athletes, Daugavpils City Council Chairperson Žanna Kulakova told that intrigue remained for long but fans believed up to the last into their team. Žanna Kulakova wished for success not to leave the team in future, to feel the support of fans. . She admitted that the formula for success is impossible without hard work, skill and tactics. She expressed her gratitude for the fact that football players popularized the city's name through their sport achievements.
Ž. Kulakova: "This is a year of sports in Daugavpils. City Festival was dedicated to sports, and it is a great pleasure, that exactly this year our sportsmen delight us so many times."
Footballers were welcomed by Daugavpils City Council Vice-Chairman Vjačeslavs Širjakovs. He expressed appreciation for the fact that the fans were not disappointed, that's a real team spirit, especially words of gratitude were dedicated to the coach, who found the right access to the team and chose the correct tactics of the game. Mr Širjakovs thanked all those who believed in this victory and supported the team.
Team was also congratulated by Head of Sports Department Aleksandrs Isakovs, who wished to hold leadership positions in the future.
Daugavpils City Council management presented City Council's Diploma and a Honor sign named "Silver Lily" for the popularization of Daugavpils' name and for the obtained title of Latvia's champions. Football players and the coach were presented Daugavpils City Council's testimonial diplomas.
Also, the team "Daugava" thanked the management of council for the support and interest of the team's success. For its part, local government executives confirmed that will definitely support the team in preparation for upcoming competitions.
Information prepared by Daugavpils City Council press-secretary Liga Korsaka.