FC "Daugava" becomes the champion of Latvia Sport news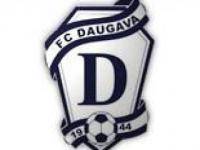 Champion of Latvian Football league for the first time in the history of the club became the team ofDaugavpils"Daugava", which previously guaranteed to itself this title.
On Sunday citizens ofDaugavpilshad an away game against the "Gulbene" inRiga. In Gulbene game could not go because of poor lawn at the stadium, so the match took place at a small stadium "Arkadijas." The game was attended by over 50 fans of the club "Daugava", which actively supported the team.
Football players did not disappoint, by controlling events on the fieldquite confidently. Stanley Ibe did not miss his chance in the first half, one on one, after a great feed of Daniels Ola. In the following minutesStanleyhad 2-3 more opportunities to stand out, but notStanleyscored the exact impact, butMihailsZizilevs after the filing of Edgars Jermolajevs. At the beginning of the second time, with a beautiful hit in the nineArtursKarašausks made 1:2, but just as quickly the team of Gulbene receded - after centering ball by Jermolaevs, the ball was sent into their gates by Ivan Gluško.
In the remaining time both teams has the opportunities to stand out, but the score remained unchanged. This victory allowed the team "Daugava" to secure a title! In the final qualifying round «Daugava" in their home field will have to play with "Ventspils", but for citizens ofDaugavpilsthis match will change nothing, because they are ahead of the following team for 4 points.
"Daugava" became the champion of Latviafor the first time, thus securing a place in the Champions League qualifier.
Information prepared by Nauris Mackevičs, Daugavpils Sport management