Central Statistical Bureau of Latvia congratulates Daugavpils with its 740th anniversary City news
According to the data of the Central Statistical Bureau (CSB) of Latvia, Daugavpils is the second largest city in Latvia – at the beginning of 2015 there were 86 435 residents. As the number of population in Latvia reduced, also the number of resident population in Daugavpils decreased – by 968 residents as compared to the beginning of 2014. During the last 10 years, the number of population in Latvia fell by 20.8 thsd residents (107 269 residents in 2005).
Congratulating Daugavpils with 740th anniversary, the Central Statistical Bureau has compiled indicators characterizing the city and has prepared grid map.
According to the Population Census 2011 data, average resident population density in Daugavpils is 1300 persons per one square kilometre.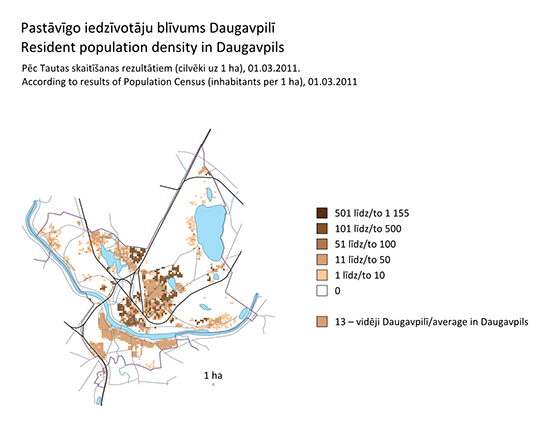 In 2014, out of all cities under state jurisdiction Daugavpils had the largest number of marriages – 7.2 marriages per 1 000 population. Last year there were 628 marriages in Daugavpils (more by 35 marriages than in 2013), which is the largest number of marriages over the last five years.
In 2014 there were 787 newborns in Daugavpils, of which 410 boys and 377 girls.
In 2014, average monthly wages after taxes of employed persons in Daugavpils comprised 410 euros, which is 22 euros more than in 2013. During ten years average monthly wages of Daugavpils residents have increased by 230 euros (180 euros – in 2004).
79% of Daugavpils residents live in apartment buildings, but 13% – in individual houses. 8% of residents live in buildings built in pre-war Latvia and earlier, 85% – in buildings built in 1945–1990 and 7% – in buildings built after 1990. Dwellings inhabited on average are 41 year old and their average floor space is 53 square meters.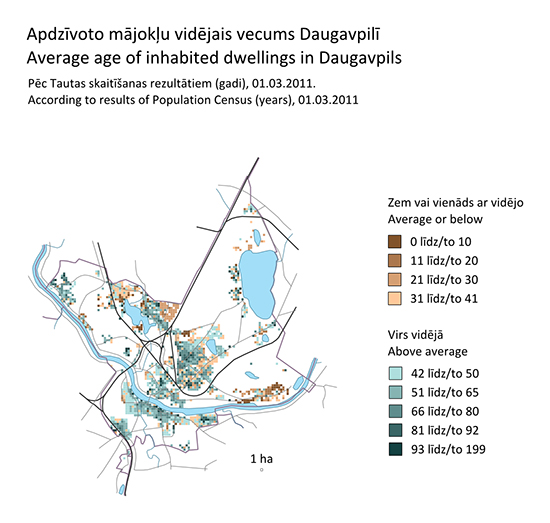 Grid maps of resident density and languages mostly spoken at home with cell size 100x100 m are available in the CSB homepage in section "Maps and spatial data".

More information:
Information, Publishing and Printing department
Kristīne Romanovska
E-mail: media@csb.gov.lv
Tel. +371 67366924, +371 27880666