Daugavpils City Council congratulated Chevalier of Recognition Cross Maria Ivanova Council news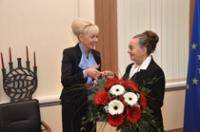 On the 29th of October City Council received a message from the Chapter of Orders - a Chevalier of the Recognition Cross is assigned a long-term chairperson of the board of Daugavpils territorial organization of Latvian Association of blind people Maria Ivanova.
High national award was given for their dedication and contribution to the work of social rehabilitation, unselfish work which improves the quality of lives of people with disabilities and integration into society.
On the 29th of November Mrs. Ivanova was congratulated by Daugavpils City Council. Daugavpils City Council Chairperson Žanna Kulakova expressed great joy over reception of as a respected person who has done a lot for the benefit of society in City Council. Žanna Kulakova emphasized that we are proud of Daugavpils, but more of Daugavpils' citizen and all their achievements, which popularize the name of the city. As long as the city has such people, the city has the opportunities.
Maria Ivanova said that she was very excited, because it is an honor to receive the award from the President is on national holiday. She is proud to serve Latvia and Daugavpils. Mrs. Ivanova emphasized that her mission is to serve the people. During 40 years through her heart came many destinies. Maria Ivanova remembered how she worked before, how the society's generated, and also told about today's problems. She is disappointed that hobby groups do not have enough superiors, so people are not able to realize their potential. Also in the area of Society for blind people asphalt streets and yards should be laid Žanna Kulakova confirmed that government has always been helping and always will support the society in future.
Deputy Manager of Social Affairs Benita Siliņa turned to Mrs. Ivanova as a colleague, because she also serves as a social worker and helps people.
Maria Ivanova is also actively involved in the society of "Varaviksne" organisation. Colleagues respect her as a person who knows how to listen, can help and knows how to organize. Maria Ivanova wished strength and stamina, performing the sacred duty.
Information prepared by Daugavpils City Council press-secretary Liga Korsaka.