About the conferment of "Annual Award" Council news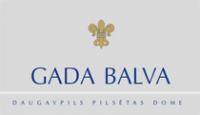 The award was established on the basis of the award Council of 5th November 2012 decision. On the 8th of November Daugavpils City Council deputies approved the decision of the City Council "Annual Awards" granting.
For contributions to the development of Daugavpils and achievements in 2012 assigned the "Annual Awards":
1. Nomination of EDUCATION – Head of General and Professional Education Department Ināra Sprindžuka
2. SPORTS nomination -
2.1. Athletics coach Romuald Jurkevičs;
2.2. Wrestling coach Sergei Kursītis.
1. Nomination of NATIONAL ECONOMY -
SIA. "Axon Cable".
AS "Daugavpils Locomotive Repair Factory» head of the board Natalia Petrova.
1. Nomination of PUBLIC ACTIVITIES – Head of Daugavpils Society of Disabled persons Vanda Mihailova.
2. Nomination of CULTURE- Deputy of Head of Daugavpils Regional and Art Museum in scientific work Ludmila Žilvinska
The awards will be presented at the festive event dedicated to the National Independence Anniversary on the 18th of November at Daugavpils Theatre.