U.S. ambassador meets Daugavpils Council news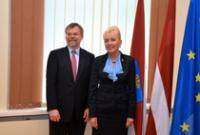 On 23rd of October the newU.S.ambassador in Latvia Mark Pekala visitedDaugavpilswith a two-day visit. On the 23rd of October U.S.ambassador had a meeting withDaugavpilsCity Council Chairperson Žanna Kulakova.
For the ambassador of theUnited Stateswas prepared a presentation aboutDaugavpils, its history, culture, economics and development projects. After the presentation, the ambassador appreciated the geographical position ofDaugavpils, which is a great advantage, and ambassador admitted as a very good step the priority of government – infrastructure's modernization. The ambassador explained that the key to his work is the development of economic contacts. He was very interested in Investment Forum and promised the presence of American participants at the next forum. The ambassador promised to recommendDaugavpilsto the investors from theU.S., as a place that cares about the infrastructure of the city, a place that is open to cooperation with entrepreneurs, a place where citizens speak different languages, which is very promising in itself.
Daugavpils City Council Chairperson Žanna Kulakova informed thatDaugavpilsis open for cooperation in various sectors, such as the cultural sector. Speaking ofRotkoArtCenter, Mark Pekala told that he is ready to support the project and take care to make the original Rotko works would become the exhibits ofDaugavpils.
Also theU.S.ambassador was very interested in amicable multinational composition ofDaugavpils, so for the ambassador was organized a meeting with representatives of the National Societies.
U.S.ambassador will meet the youngsters, will visit the synagogue and theUniversityofDaugavpils.
U.S. Ambassador visitsDaugavpilsalso to open a monitoring program of business activities between the five business incubators in Latgale region and one of the leading incubators inUSA- "The Idea Village".
The purpose of the incubator is to develop and support cultural education business in Latgale region, while supporting the monitoring and exchange program among its participants.
During the visit, the ambassador will meet many representatives ofDaugavpilssociety, including students, leaders of cultural and religious communities, as well as entrepreneurs. The ambassador will also visitDaugavpilsUniversity, where he will meet students, and an information center of theU.S.at the Library of Daugavpils.
Information prepared by Daugavpils City Council press-secretary Liga Korsaka