Russian city Vladimir is offering Daugavpils collaboration Council news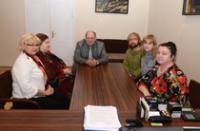 Daugavpils was visited by the workers of Russian city Vladimir's government, who arrived at a festive opening of new Russian House. On the 16th of October Daugavpils City Council Vice-Chairman Vitālijs Azarevičs greeted the guests.
Guests showed the interest to the sphere of culture, tourism and work with youngsters. Vitālijs Azarevičs introduced them to net of cultural establishments, special attention was paid to the Centers of national culture financed by local government: these are the centers of Latvian, Russian, Polish and Belorussian culture. All of them are valuable establishments of culture. Daugavpils is a multicultural city, which makes it an interesting place, and the government tries hard to keep each nationality culture and language.
Vitālijs Azarevičs narrated about all the culture events of Daugavpils, City Festival, which for the last years grew into a week-long celebration, and each year has its motto, this year it was dedicated to sport.
Speaking of tourism, Mr. Azarevičs emphasized, that the main accent is considered to be Daugavpils fortress, which becomes not only a renovated historical object, but also a huge tourism center. In Daugavpils fortress is growing the Centre of Mark Rotko's art, which is a large hope of tourism's development.
Vitālijs Azarevičs narrated about the work of government with youngsters, about the program of youth's busyness during summer period (more than 1000 youngsters got the summer job), about the Centre of Youth and about the support of youngster's organizations, which have already exceeded the number of fifty.
The guests from Vladimir narrated about the experience of their city, about the most interesting projects and offered Daugavpils close co-operation. Vitālijs Azarevičs supports the proposal and believes, that there is no need to wait for a long time, Daugavpils is ready to accept collectives of Vladimir and the artists on various activities of Daugavpils and promised, that Culture Management will prepare a plan of cultural activities.
In conclusion of meeting the guests expressed only positive emotions about the government's labor, they were even surprised and with kind envy explored the experience of Daugavpils. An amazement was expressed over the fact of how the budget funds is enough for everything. Vitālijs Azarevičs explained, that many things are possible with the projects of EU and the resources of EU funds, and this is a large investment into the culture of government.
Vladimir's delegation admitted, that will leave Daugavpils with only positive impressions, lots of fresh ideas and will definitely come back, because the delegation hopes for the collaboration.
Information prepared by Daugavpils City Council press-secretary Liga Korsaka