Culture news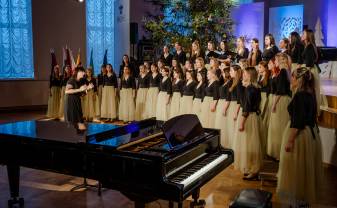 On 8 January, the final of the IV International Contest for Young Singers of Christmas Songs took place at Daugavpils Unity House concert hall. The first Contest round was held remotely and the winners in 4 categories were announced, while the second round - the final - was held in person and the winners of the four main prizes were announced.

Department of Culture of Daugavpils
Culture plays an important role in the formation of one's personality – it enriches the mind and is vital to survival and well-being, gives strength and energy to the day-to-day work and the belief in the future.
One of the most important cultural centres in Latvia is the city of Daugavpils, where every single resident and guest of the city is offered a wide, varied and qualitative range of cultural events with the participation of the artists from local and other municipalities, as well as foreign artists.
Several municipal institutions are working to provide cultural life in the city. The largest of them are: Department of Culture of Daugavpils City Council, Latvian Culture Centre, Daugavpils Mark Rothko Art Centre, Daugavpils Regional Studies and Art Museum, Russian Culture Centre, Palace of Culture, Belarusian Culture Centre, Polish Culture Centre, Latgale Central Library, etc. Not only residents of the city of Daugavpils, but also tourists and guests attend all the events with great interest.
A number of different cultural events take place in Daugavpils: international festivals, as well as national and local city events, with the participation of residents of the city, cultural and educational institutions, public organizations, cultural societies, and municipal and state organizations. Since 2018 is the year of the Latvia's Centenary celebrations, a large program of events dedicated to this important national anniversary is offered in Daugavpils.
The city's artistic amateur collectives, which in total are more than 40, are actively participating in the events.
Cultural events
in decemberCultural events
in 2020