Festival "Silver Bells" starts online Culture news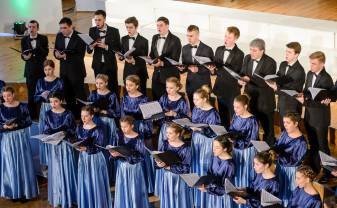 From 14 to 16 January, the XIV International Festival of Sacred Music "Silver Bells" begins. This time, the performances of the festival participants and the best performances of the contestants will be available online - on the Youtube channel "Latvian Contests" in the form of video recordings.
More than 150 participants (ensembles, choirs and choral conductors) have registered for the XIV International Sacred Music Festival "Silver Bells". In total, there are about 3000 singers and conductors from 18 countries - Armenia, Austria, Belarus, Bulgaria, Czech Republic, Cuba, China, Ecuador, Italy, Kazakhstan, Latvia, Lithuania, Moldova, Poland, Romania, Russia, Slovakia and Ukraine.
Within the Festival of Sacred Music, a competition for vocal ensembles, choirs and young choral conductors in several categories will take place. An international jury from nine countries - Belarus, Russia, China, Latvia, Norway, Romania, Spain, Ukraine and USA, is judging the technical and artistic aspects of the competitors' performances. The results of the jury evaluation will be announced after 17 January.
The XIV International Festival of Sacred Music "Silver Bells" is organised by Daugavpils City Municipality Department of Culture in cooperation with Daugavpils Unity House.
Additional information:
Jevgeņijs Ustinskovs
Artistic director of the Contest, author of the project
phone.: +371 29538278
e-mail: sb2@inbox.lv
Viktorija Cirse
Daugavpils City Municipality Department of Culture
phone: +371 65423601, 29293520
e-mail: viktorija.cirse@daugavpils.lv
https://www.daugavpils.lv/pilseta/iedzivotajiem/kultura/