An entrance to the Shmakovka Museum with a special price on sixth birthday - June 4 and 5 Culture news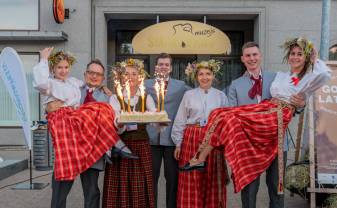 On June 4 and 5, the Shmakovka Museum will celebrate its sixth birthday. The ticket price for individual visitors will be only 2.15 EUR. The Museum offers free audio guides in 6 languages – Latvian, Latgalian, Russian, English, Lithuanian and German, as well as guided tours.
We offer to visit the museum for the whole family: while adults will explore the history of Latgale and culinary heritage – shmakovka, children will have the opportunity to participate in a paper cup-making workshop.
On June 4 and 5, the Shmakovka Museum will be open from 11:00 to 19:00.
Shmakovka Museum in Daugavpils is the largest museum in Latvia, which tells about the culinary heritage of Latgale. Museum visitors can learn about the process of making shmakovka using modern technologies, see original production equipment, get acquainted with the culture and history of Daugavpils and Latgale, as well as purchase various souvenirs with museum symbols and receive free information materials.
See you at the Shmakovka Museum!
Information prepared by
Raivis Malnacs
Director
of exposition "Shmakovka Museum"
Tel.: +371 25666201
Email: info@smakovka.lv
Web: www.smakovka.lv
www.facebook.com/SmakovkasMuzejs
www.instagram.com/smakovkas_muzejs